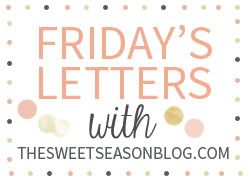 It's finally Friday! For reals, this week dragged on with all the rainy weather we had and actually having to work a full work week!
Anyways, today I am linking up with
The Sweet Season
again for Friday's Letters! You should totally check out her blog!
~ Dear Weather Man
, Please don't tell me that we are going to have rain again all day long! I need some SUN (you know that bright yellow thing in the sky) soon! It's been a long week and I am not liking the mud.
~ Dear Wendy ( yep, that's me)
, Seriously, you need to get back on track with your eating and exercising! You were down right lazy this week and have been eating like you are getting ready to hibernate! Starting Monday, you will get back on track and stop stuffing your face and sitting on your booty instead of walking. Swimsuit season is right around the corner and you know that you really want to buy a new suit in a smaller size! :)
~ Dear Pinterest
, Why must you suck me in when I have things that need to be done (dishes, dinner, shower)? It is amazing how much time can be spent pinning.
~ Dear Scales
, I'm sorry I have been neglecting you this past week. I am seriously scared to see what you have to say since I have been stuffing my face and being lazy! I will be back soon. I promise..... Please be nice. ;)
~
Dear Hubby
, Our anniversary is in less than 2 months and I can not wait for our annual weekend away! I don't care if we just head to the camper at Silver Lake (or a seedy motel), as long as it's just us. 7 years and I can't imagine my life without you. :)
~Dear Molly (our bloodhound puppy)
, Why, oh why did you act like a crazy dog in the middle of the night last night? Normally you sleep all night. I feel like I was up with a newborn. Please sleep tonight. Mama needs her sleep!
~
Dear Kindergartners
, While I love working with you and think you are all pretty adorable, I don't like spending my mornings helping you get off the bus, only to find you walking towards me with earthworms! I don't do worms.... EVER! Trying to act like an adult and calmly tell you to put the worm down was very hard, when all I wanted to do was run away and scream!
That is all.... Have a great Friday everyone! :)