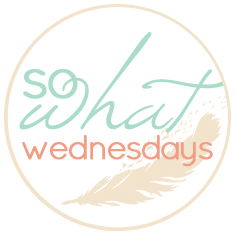 I am linking up with
Life After I "Dew"
today for So What Wednesday!
So this week I am saying So What if......
~ I ate lunch at work today and it wasn't very "diet" friendly! I was hungry and it looked good!
~ I haven't mopped my kitchen floor in like almost a week! I am so over having a clean floor, then having my adorable puppy walk all over it with her muddy feet. I felt like I had the mop in my hand all day long. Not cool.
~ As I am writing this post I am trying to win tickets for Connxtions Comedy Club for this weekend off their Facebook Page by playing their trivia question game!
~ I don't know what I am making for dinner tonight. Any ideas?
~ I am thinking Ice Cream for dinner sounds like a great idea! ;)
~ I can't wait to sleep past 7am on Saturday! For reals, I am so not a morning person.
~ I wish it was last week and we were getting ready to head to Kalahari Water Park! Still need to get that post up here!
So what are you saying "So What" to today?