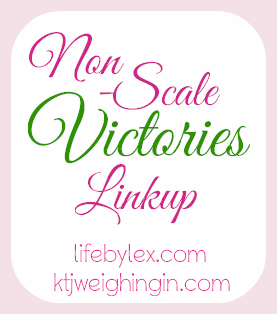 I am participating in another new Linkup today. This is for celebrating a Non-Scale Victory!
Life By Lex
is the host and she has a really great blog, you should totally check it out!

I had a major Non-Scale Victory yesterday! Like HUGE for me! I have been working really hard over the course of the last year on being able to run a mile and guess what? I TOTALLY DID IT YESTERDAY!!! I ran a mile without stopping!! :)
I am so geeked. It felt so good. Last year at this time I was just starting to walk daily and couldn't even run a tenth of a mile. I haven't ran a mile straight since high school!

I am doing The Color Run 5K this August in Grand Rapids and am hoping to be able to run most of it. I have 4 months to work up to the 3.1 miles and I am really thinking I will be able to do it!

Have any of you had a Non-Scale victories this past week? Whether it be mentally, physically or in weight loss! Share it with me and others!